September-1-1999
FOR IMMEDIATE RELEASE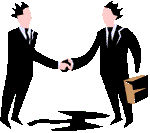 MicroLAB Systems, the manufacturer of MIRAGE emulators and TORNADO DSP development boards for TI TMS320 DSPs, and CowBoy Industries Inc, the US-resident provider of high-end DSP solutions for VME and ISA/PCI-based applications, jointly announce the beginning of a new exclusive Distributorship for the North American market.
With its network of US sales offices, which deliver excellent service and technical support, CowBoy Industries can now supply the North American market (USA, Canada and Mexico) with the ultimate DSP Tools from MicroLAB Systems for high-end DSP applications.
New North American distributor will allow MicroLAB Systems to deliver better local service and extend its worldwide sales network, which now comprises of seven worldwide distributors in USA/Canada/Mexico, Israel, Japan, Korea, Singapore, Taiwan and China.
For more information contact MicroLAB Systems or CowBoy Industries Inc (126 West Church Street, Lewisville, TX 75067, USA, toll free: 1-888-420-6812, www.cowboyindustries.com, keith@cowboyindustries.com).